Fractazmic is a card game for 2-4 players that uses math skills, specifically fractions, in a fun and engaging way. The object of the game is to create as many "hands" as possible before a player runs out of cards. "Hands" are made by adding together the fractions within a suit to equal one (1).
Fractazmic includes 60 sturdy, colorful, and clearly marked cards.
The cards are divided into three suits:
Sixteenth suit (red) 1/16, 1/8, 3/16, 1/4; 5/16, 3/8, 7/16, and 1/2,

Twelfths suit (blue) 1/12, 1/6, 1/4, 1/3, 5/12, and 1/2,

Tenths suit (green) 1/10, 1/5, 3/10, 2/5, and 1/2.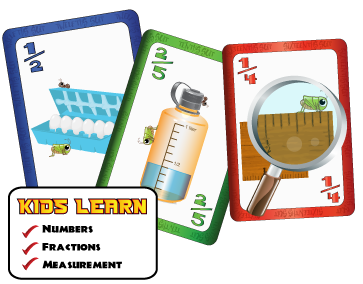 There are a few different ways to play with Fractazmic. You can check out this site for rules to play Fractazmic Trap or Fractazmic Rummy. Or you can download a free 28 page booklet that describes how to play Fractazmic and the other card games available from I See Cards.
Ms. Q and I played the Fractazmic Rummy game because she is already fairly familiar with the rules of rummy (pick a card, make a hand, discard, etc.). What she is not that familiar with is fractions. The advertised age for this game is 1st through 8th grade. However, Ms. Q is not that familiar with fractions yet (she's in 4th grade this year) so we started the game out with a lesson in how to add fractions. I should add here that I was totally terrified when I sat down to play this game. I have never been that good with fractions. As a matter of fact it took me quite a while to even remember how to add them when they have different denominators. But after a quick refresher and a brief lesson for Ms. Q we were off and playing. As we played the game we created a cheat sheet because well we're new at this and adding fractions with different denominators on the fly kinda takes a long time when you're new at it. It was also a confidence builder for Ms. Q so that she felt she was able to play the game. I'm sure after a while she (and I) won't need the cheat sheet anymore.
I have to say that at first this game can be a bit challenging. It was really fun though! Yep I said it, a game about fractions is FUN! With a bit more play and a bit more practice I'm sure Ms. Q and I will be adding fractions like nobody business. The idea that this card game could take something that made me afraid and intimidated into something fun to share with my daughter is mind blowing. Who would have thought that we would be bonding and having fun with fractions?
I See Cards, the company that makes Fractazmic, has other math card games including I See Cards Spanish/Engish, Prime Bomb, and Pyramath cards. Fractazmic (and the other games as well) can be purchased here for $6.95 each and there are also various bundling options. You can also play Fractazmic Speed online for free so check it out.
The see what other TOS Crew members thought about Fractazmic go HERE.

Disclosure: As a member of the 2011-2012 The Old Schoolhouse Magazine Homeschool Crew, I was provided this product for free in exchange for my review. No other compensation was given and this review reflects my honest opinion.