We have had the privilege to review another really awesome game!
Our family game night options are growing but we seem to play the same game every week.
That one game?
Wits & Wagers Family
from North Star Games. The kids are totally obsessed with this one! Wits & Wagers Family is an adaptation of North Star Games award winning Wits & Wagers party game for
three or more players ages 8 and up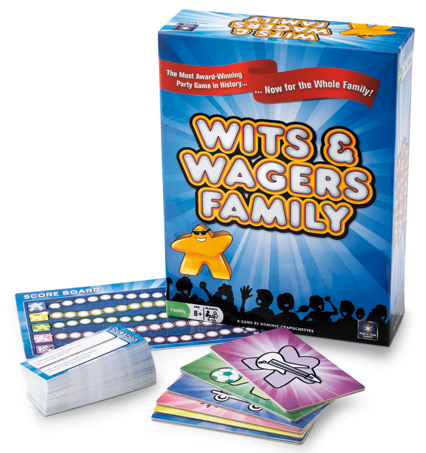 The game comes with 150 question cards, 5 dry erase answer boards, 5 dry erase pens, 1 dry erase score card, and 5 large and 5 small Meeples. Meeples are the cutest things. Forget being the thimble or the shoe. We like the colorful, wooden people-ish looking Meeples.
Play begins with when the first player reads a trivia question aloud.
These are not trivia questions in the sense that you should be able to correctly answer. An example: "What's the world record number of tennis balls a dog has held in its mouth?" All players then write their guess on their dry erase board. Next you decide whose answer you think will be closest to the right answer without going over. Place your Meeples on your choice and wait for the answer. The first person to score 15 points wins!
The questions are really fun and it is really funny to see some of the answers
(like my husband's answer to the tennis ball question above - 23 lol. Poor dog, can you imagine?). The game goes really quickly so we often do best out of three or four to find the family champion. I happen to be the reigning champ at the moment but I'm sure that will change by next week.
The North Star game family includes Wits & Wagers, Wits & Wagers Family, and Say Anything, as well as Say Anything Family, and Crappy Birthday both set to be released in 2011. North Star games can be purchased
online
and at
select retailers
. Price may vary according to retailer. We had so much fun with this game, I hope will check it out too!
To see what other TOS Reviews have to say, see the
TOS Homeschool Crew Blog
.
Enjoy!

Disclosure: As a member of the 2011-2012 The Old Schoolhouse Magazine Homeschool Crew, I was provided this product for free in exchange for my review. No other compensation was given and this review reflects my honest opinion.