I recently switched my lesson planning platform from
Homeschool Tracker
to
Homeschool Skedtrack
. The biggest difference is in the way I organize Little M's school activities. In order for the activities to display on the right day and in the right order I have to assign each activity to a different "course." It sounds more complicated than it really is but it means that
I can now give you a full lesson plan for Letter of the Week!
The courses are more fluid then they might appear and much less formal than they sound, trust me - we are not doing hard core science or math here.
Anyway without further ado, here is the
Letter F with a frog theme
:
Literature:
Frog Went a Courtin' as spine, see carousel at the end of this post for other books we used. Also see the Preschool Curriculum Tab at the top for web resource where each activity can be found. We used
these story strips
to sequence the story.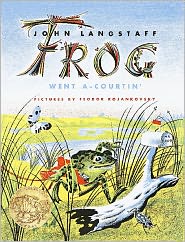 Letter Recognition:
We watched some videos on the internet about the letter F then Little M made the letter F with three forks. We read
this mini-book
of things that start with the letter F
Science:
We read through a non-fiction book from the library detailing the life cycle of a frog then completed
these sequencing cards
Math:
We went on a Letter F hunt and counted all the things around the house we could find that started with the letter F; Then we counted how many animals came to the wedding of Frog and Ms. Mousie
Music:
Frog Went a Courtin' was originally a song so we listen to Frog Went a Courtin' on YouTube
Craft:
Little M made a paper bag frog puppet
Enjoy and remember to have fun!