I am so excited to tell you about Always Icecream.com! Ms. Q absolutely loves this website. She loves it so much that when a friend of hers was having a birthday party, she gave her friend a one-year membership to
Always Icecream
for a gift.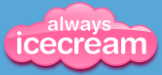 So what does she like so much about it? Imagine if your daughter could build her online dream house and decorate it with furniture she designed herself. What if she then opened a virtual store where she sold her wares to other girls to use in their dream homes. Imagine an online world where your daughter can chat safely with other girls her age. What if she could take care of her own virtual pets, learning both responsibility and pet care. Sounds good so far right? What makes Always Icecream different from those other popular online worlds is that in Always Icecream the girls have to work to earn Scoops (the Always Icecream currency) to pay for all this fun stuff. And that work is learning games.
Always Icecream
is an "innovative
play and learning website exclusively for girls between the ages of 7 and 12
." Girls can choose from games and quizzes in math, geography, typing, science, health, music, language arts, and foreign language vocabulary to earn their scoops. They can then use these scoops to do all of the activities I mentioned above. There are also some "fun" games to play that don't earn scoops like babysitting, hosting a cooking show, and decorating cakes.
US Geography
Typing


There are several levels for each game and games for different age ranges so that the website can continue to interest your daughter as she gets older.
Parents can receive an email weekly
that lets you know what games your daughter has played that week and what communications she has had with her online friends.
You can try out Always Icecream for free
but with limited access to games and features.
Monthly memberships
start at $4.99/month,
Annual memberships
are $29.99, with the best deal being the awesome
Lifetime membership
for $99.99.
I can't recommend this website enough!
Ms. Q asks to play it ALL the time. It has become her reward for getting all her schoolwork done before lunch. Check out what other TOS Crew Members have to say
HERE
.

Disclosure: As a member of the 2011-2012 The Old Schoolhouse Magazine Homeschool Crew, I was provided this product for free in exchange for my review. No other compensation was given and this review reflects my honest opinion.