"Mom, what's for dinner?"
I hear this question at least three times a day. My usual answer was always one of uncertainty.
Around 5 o'clock I would start the kitchen prowl
looking in the freezer, the pantry, and the fridge trying to figure out what to make. It usually worked out just fine but sometimes not.
It certainly was a stressful way to do it and pretty expensive.
Enter
E-Mealz.

E-Mealz provides you with a printable weekly menu plan that includes easy to follow recipes and an organized aisle by aisle grocery list.
You can choose a plan created for your grocery store that is centered around sales and seasonal produce or a specific diet (low-fat, low carb, gluten free, vegetarian).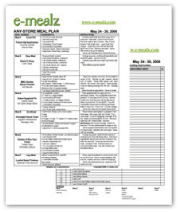 Now, each week I go to
E-Mealz
and print out the menu and shopping list for the week. Then I write on the calendar when we'll eat each meal and check the grocery list to see what we already have and what else we need purchase for the week. For the last month we have been using the Aldi meal plan. The groceries included in the meal plan have cost between $65-$75 for the week. And no wasted groceries and spoiled produce anymore.
The included recipes have all been easy to prepare in less than one hour. My husband and three kids have devoured each and every meal.
I feel a little guilty taking all the compliments on dinner because E-Mealz has made it so easy for me.
If you want to save time on meal planning and save money on groceries, I highly recommend you check out E-Mealz.
You can see samples of their menus, recipes, and grocery lists
HERE
. A subscription is $5 a month (that's only $1.25 per weekly plan!). In case you're still not convinced, here are photos of some of the meals I've prepared from the weekly plans.
Baked talapia with scallions, rice pilaf, and cheezy cauliflower
Mexican Chicken Casserole
Slow cooker pork roast with apples, sweet potatoes, and steamed broccoli
Check out what other TOS reviewers have to say at the
Crew Blog
.
Enjoy!

Disclosure: As a member of the 2011-2012 The Old Schoolhouse Magazine Homeschool Crew, I was provided this product for free in exchange for my review. No other compensation was given and this review reflects my honest opinion.