We recently had the opportunity to review ALEKS (Assessment and LEarning in Knowledge Spaces) a Web-based, artificially intelligent assessment and learning system.
From the website: ALEKS uses adaptive questioning to quickly and accurately determine exactly what a student knows and doesn't know in a course. ALEKS then instructs the student on the topics she is most ready to learn. As a student works through a course, ALEKS periodically reassesses the student to ensure that topics learned are also retained. ALEKS courses are very complete in their topic coverage and ALEKS avoids multiple-choice questions.
For homeschoolers ALEKS states it provides the instruction and support you need to homeschool your children in mathematics for grades 3-12 and is accessible from virtually any computer with internet access, making it a flexible and mobile educational solution for your children. You can watch a quick 2 minute explaination for homeschoolers.
Here's how it went for us. After creating an account, Ms. Q logged on and was taken to the assessment page. She answered around 30 questions that tested her knowledge in various elementary level math topics.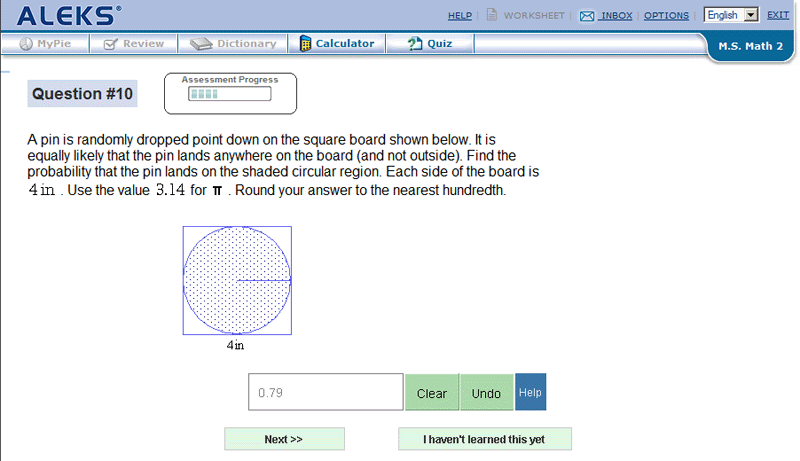 The program then produces a pie chart listing all the areas the assessment found the student has mastered, needs to learn, and is ready to learn: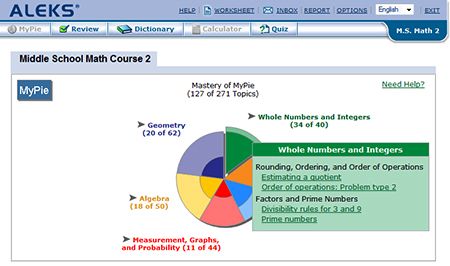 Ms. Q was then able to choose the topics she wanted to learn and the program provided instruction in the area she chose in a very matter of fact and straight forward way.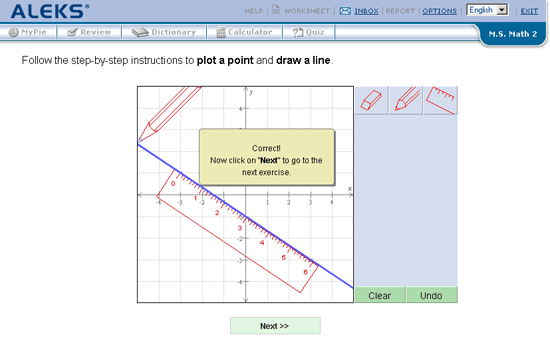 We are still on the fence about this product. What we liked about the program: I love any product that makes my life easier. Math has been an area Ms. Q and I have struggled with from the very beginning, both because I really don't enjoy math and because I don't seem to be very good at teaching it. ALEKS made life easier in that I didn't need to really teach Ms. Q the math, I just needed to be available in the event she needed some clarification. She also really liked that she could choose the topics she wanted to learn and work on them at her own pace. I liked that I didn't need to create a lesson plan and find resources for each topic and that I could easily see what Ms. Q worked on and how well she was progressing through each lesson.
The only thing we didn't like about the program was that although ALEKS did provide the instruction for Ms. Q for each of the topics she chose to learn, the way it was presented to her did not really keep her interest. One of the reasons that we homeschool is because Ms. Q has a very short attention span for things that are less engaging or not hands on. I think the only reason she was able to focus and complete most of the lessons was because her competitive nature had her determined to complete the pie chart as quickly as possible. After a few lessons though,even that didn't seem to help. She's just used to a much more hands on approach to math that explains the "why" to her as well as the "how."
We received a free two month trial. If you would like to see if ALEKS will work well with your child click here: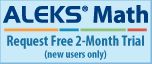 To see what other TOS Homeschool Crew members had to say, please go to the blog.

Disclosure: As a member of the 2011-2012 The Old Schoolhouse Magazine Homeschool Crew, I was provided this product for free in exchange for my review. No other compensation was given and this review reflects my honest opinion.