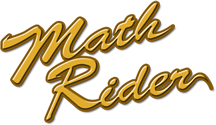 Are you searching for fun and helpful ways to help your children practice their math facts? It seems I am almost constantly these days! Then once I find one that Ms. Q likes she looses interest in it and it becomes just another "school thing" to complain about. Well I think we found the one that will be staying around for A LONG TIME! Math Rider is a fun math game for kids that sends them on a fictional quest while they practice their math skills. It is targeted for elementary aged children who need practice with addition, subtraction, multiplication, and division facts 0-12.
Math Rider combines fun, adventure, and oh yea - Math! Your child begins by choosing which type of operation they would like to practice and then the quest begins. The child rides a horse over hurdles while solving math problems and completing their quest. The more accurate and quickly the child answers the faster the problems come. After four proficient rides the quest is completed. The child can then choose another operation/quest. Although the quest can be repeated the problems will be different offering even more practice.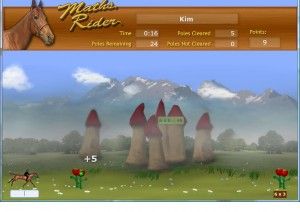 The really neat part of Math Rider is that kids can see their progress and improvement. Instead of just a number of correctly answered problems, Math Rider gives point bonuses, time bonuses, quest progress, progressively animated rewards and a comprehensive statistics screen.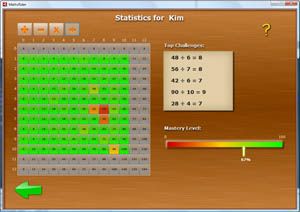 Ms. Q really liked the quests. She started with addition and then subtraction, even though she is already pretty quick with those facts. The game adjusts to the user, so she was able to complete those quests much faster than the one she worked on for multiplication. One of the things she really liked is that the operations are all of one kind and not mixed. She sometimes has a hard time with mixed operation problems, especially when trying to answer quickly so that worked out just great for her. It was sometimes difficult to get her off the computer do something else - but I guess that's really not a problem!
If you would like to read what other TOS Homeschool Crew reviews thought, please go HERE.

Disclosure: As a member of the 2011-2012 The Old Schoolhouse Magazine Homeschool Crew, I was provided this product for free in exchange for my review. No other compensation was given and this review reflects my honest opinion.