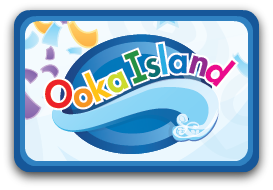 Want a really fun way to help your children learn to read? Then you need to check out Ooka Island. Ooka Island is a mission driven adventure designed to teach young children to read. For children ages 3 through 7 (Pre-K - grade 2), Ooka Island is a virtual game world where young children navigate through the island playing games and learning essential pre-reading, reading, spelling, and writing skills. Each child registered gets his or her own log-in account that tracks performance and tailors each days activities to their mastery of previous skills. With fun games (and names) like Alphabet Mountain, The Cake Facotry, and Cave of Sounds your child will hardly know he's learning.
The adventure begins when your child creates his or her very own avatar. Little M chose to create himself as a hero - complete with cape and mask. As each game is played and each skill mastered, little readers are able to unlock books to read in the island's Popcorn Library. They also earn currency to spend
in the island's store, The Mist Mart, on things like avatar accessories, toys, and music.
Ooka Island uses The OokaMethod of literacy instruction which combines phonological development and language-rich text with comprehension activities so that children have the opportunity to achieve effortless reading. From the website:
With the OokaMethod
TM
, children progress to the most sophisticated phonological level. First, they must understand that words are made up of individual sounds (or phonemes) that they can hear and manipulate. Second, they learn to associate these sounds with letters and blend them together to make words, thus breaking the code that speeds them through the foundational levels of reading development and beyond.
Little M has just started learning to read this year and I am really excited to have found a program that provides more than random alphabet/phonics games or videos and less than leveled readers. Ooka Island games progress at Little M's pace, leading him step-by-step through necessary literacy skills. Little M is an avid computer user (it's the only way I can get Ms. Q's lessons done with her). He is able to power up the computer, log on, and use his desktop shortcuts to visit any of his approved websites. The Ooka Island shortcut by far, gets picked most often. He knows it's his "reading work" but that actually makes the game that much better for him. When I asked him his opinion on Ooka Island for this review he stated that it is "really fun." He said his favorite game is "all of them." Not the most helpful review granted but when a three year old asks to do his reading work on the computer because he thinks it's fun I say that pretty much speaks for itself.
If you are looking for a fun and engaging way to teach reading skills, I recommend that you check out Ooka Island's website.
There are a few ways you can get started with Ooka Island. You can try it free for 14days or you can jump rignt in by clicking below to sign up for a monthly subscription. You can read what other TOS Reviews have to say about Ooka Island HERE. Your child will be on their way to reading and you'll be amazed at how much fun that can actually be.