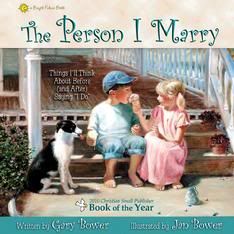 When I was a kid I never thought about what it would be like to be married. Like little girls do, I dreamed of my prince sweeping me off my feet and a fairy tale wedding. But I never really spent any time thinking about that prince. Who would he be? What would he be like? What qualities to look for? These seem like pertinent questions to ask, but they never really occurred to me as a little girl.
Gary and Jan Bower's book "The Person I Marry" answers these questions marvelously. "What makes a princess? What makes a prince? It can not be riches, hair color, and height, or any externals I think are just right." The book then beautifully puts into words all those qualities that make a person a "keeper" - kind, generous, thoughtful, optimistic, too many to list really.
You can see a short video preview of the book by clicking below. Warning: may cause you to tear up a bit.
The Person I Marry
from
Bower Books
on
Vimeo
.
After watching that video I couldn't wait for our book to come. We received an electronic copy of the book shortly thereafter. I have to admit that although the words were beautifully written and the illustrations were stunning, reading the book on the computer left something to be desired. I envisioned being able to snuggle with the kids on the couch while we read the book. Instead we tried our best to pull chairs up to the computer desk.
Little M is three, he liked the rhyming and the pictures. Ms. Q was a little confused as to why I would read her a book about marriage. I tried to explain that recognizing the good qualities in a person should be a lifelong pursuit, not just when you're ready to get married. By the second reading of the book I think she got the idea.
The Bowers have been married for 30 years and have 12 children and 4 granchildren. They write for a Christian audience and consider themselves a Christian Publisher, however as non-Christians we still received a great deal of inspiration from this book.
The qualities illustrated are important for a successful marriage (and a successful life really) regardless of religious affiliation There are only three pages of 32 that directly refer to Christianity. I read the book in it's entirety then Ms. Q and I discussed the references to God and the Bible separately from the characteristics highlighted in the book.
"The Person I Marry" is sold in hardcover format for $11.99. I haven't seen the hardcover book in person but it's on my holiday shopping list. I haven't decided who will receive this gift however. I thought it would make a wonderful gift for my husband for us to share. It would make a wonderful addition to our family library, so we could finally get that snuggle on the couch. Or maybe a gift for my newly married cousin, or my best friend with two young children? Maybe all of the above?
"The Person I Marry" is part of Bower Books Bright Future Series
which includes "What Do Heroes Wear", "There's a Party in Heaven", and "The Jingle in My Pocket". It was awarded "2010 Book of the Year" by the Christian Small Publisher Association. Regardless of your religion, if you are a parent who wants to develop positive values in your children or you want to instill in your children the importance of choosing a life partner who will treat them the way they deserve to be treated then I highly recommend "The Person I'll Marry" by Gary Bower, and illustrated by Jan Bower. Don't just take my word for it. Check out what the other TOS Crew members have to say HERE.
Enjoy!

Disclosure: As a member of the 2011-2012 The Old Schoolhouse Magazine Homeschool Crew, I was provided this product for free in exchange for my review. No other compensation was given and this review reflects my honest opinion.