When we started homeschooling Ms. Q about two and half years ago I had no idea what we were going to do. I didn't know anyone that homeschooled and was totally overwhelmed by all the curriculum choices I found while Googling. The shining light for us was
Five In A Row
.
We used FIAR Volumes 1 and 2 and loved it. So when TOS asked if we would like to review Before Five In A Row I seriously did a little dance of joy.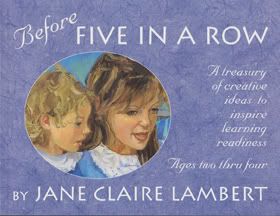 We were not disappointed in Before Five In A Row. Before FIAR is for ages 2-4 and Little M was so excited to get a "real school book" just for him. The book includes 24 literature mini-units in the same style of those awesome FIAR books. Each unit covers topics like math, history, science, character, art, and music in an informal and conversational way just perfect for the pre-school set. Most units include a Bible suggestion but if you are secular like us, or of another faith, you can just skip these. The book titles include some of the most popular and best known children's stories of all time and many are award winning selections. Two of the book selections are Christian-centered titles, but again, if these don't interest you, you can easily skip them and still have 22 other books to choose from. Before FIAR also includes a large collection of learning readiness activities to prepare your young child for learning and for building some happy childhood memories. Activities like playing with balloons, cutting and pasting, and activities for bath time just to name a few, will keep your child entertained and primed for learning.
For this review, we used the units
Goodnight Moon,
by Margaret Wise Brown,
We're Going On A Bear Hunt
, by Michael Rosen, and
Blueberries for Sal
by Robert McCloskey.
Almost all the titles used in Before FIAR we either already own or are available through our local library system.
Some titles were a little more difficult to locate and/or are currently out of print, but a thorough
internet book search
proved fruitful and not all that expensive.
Little M's favorite book was Blueberries for Sal. I think it might have been because this one came from the library and the other two came from our book basket. (Note to self: remove selected titles from book basket a few weeks before using for "school" in order to create greater interest.) He really enjoyed counting blueberries by putting them into a bucket, and his mouth, just like Sal. It was also great fun to talk about the different animals in the story and he was able to classify each one on Ms. Q's animal classification wall. We talked about bears and our last trip to the zoo when we asked the zoo keeper about bear hibernation. He and I also made up a fun song about blueberries that has been stuck in my head for days. All of these activities were suggestions offered to discuss in the Blueberries for Sal mini-unit in Before Five In A Row.
How I think "school" should look
Before Five In A Row is $35.00
and can be purchased at
Rainbow Resource Center
. There you can also purchase a literature package that includes all of the currently in print books used in Before Five In A Row. If your child likes hands on activities and is up to the challenge of
creating a lapbook, then a Before Five In A Row Fold & Learn might be of interest.
These are available
HERE
and are priced at $9.00 each. We haven't yet used the Fold & Learns but they look like a whole lot of fun. They are downloadable and are therefore reusable (just like the guide and literature books) for all your children. You can't beat that.
Disclosure: As a member of the 2011-2012 The Old Schoolhouse Magazine Homeschool Crew, I was provided this product for free in exchange for my review. No other compensation was given and this review reflects my honest opinion.