Another successful week this week. I don't want to jinx us but we are off to a great start this school year!
We attended Critter Story Time at the Cohanzick Zoo over the weekend.
One of the moms from our homeschool group was the story leader and read a story about zoo animals then helped the kids make an animal craft. The kids had a blast.
Here they are making their craft.
Checking out the Servals
A cool stump they found along way
Finished turtles they made at Critter Story Time
The highlight of Ms. Q's week was using the microscope for the first time.
She actually already owned the microscope. I think she got is as a Christmas gift last year. But it was exciting to use it as part of school! We read about the different parts of a microscope and how they work last week in Science. This week she learned about paper and cloth fibers and got to look at some under the microscope. Listening to her excitement and the amount of times she yelled "MOM, MOM, you have to look at this!" you would have thought she had just discovered tiny people under her microscope lens! But
it was fun to watch her explore and learn.
She usually balks at having to do her writing assignments but this week she was able to write about her favorite thing she did this summer. She of course wrote about her birthday and our trip to the
Wildwood boardwalk.
Problem solving has always been an issue with her in that it's so much easier to ask mom to give you the answer then to struggle to figure it out on your own.
She is continuing to use her
AIMS Solve It! problem solving activity book
and each week she builds more and more confidence in her ability to figure things out on her own.
Little M learned about the letter F this week.
We used Frog Went a Courtin' as the spine.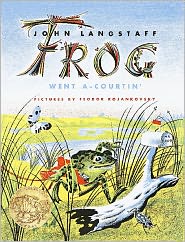 He learned about the life cycle of a frog, made the letter F from three forks, listened to the song Froggie Went a Courtin' on YouTube, and made a paper bag puppet of a frog. I got a little behind on the Letter of the Week page I wanted to keep up. Now that I'm finished the planning for this term and school is getting into a flow I hope to get that page up to date with the letters D-F.
Frog puppet "scaring" Dad
Little M is working his way through How to Teach Your Child To Read In 100 Easy Lessons.
He is doing very, very well. Over the last two weeks he has really been trying hard and we are so proud of him. The last two days he has sounded out "real words" and is really excited to do more.
To wrap up the week, we had a great playgroup on Thursday and an enjoyable trip to the library on Friday. Here's to hoping our good flow will continue for the rest of the school year!