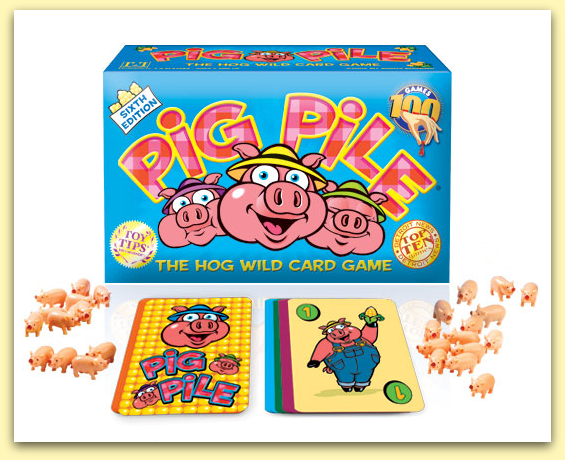 One of the newest editions to our family game night is Pig Pile from R&R Games.
It is a quick flowing card game for
3-6 players ages 7 and up
. The game comes with 80 cards and 40 little pink pigs. The object of the game is to get rid of all your cards first and be rewarded with piggies. The player with the most piggies at the end of the game wins.
Our family really had a great time with this game.
At first glance, the directions were a little intimidating. There seemed to be alot of rules, especially for a game targeted to children ages 7 and up. But as with any new game, we trudged along hoping that as we played the game we would get the hang of it. And we did! Turns out the rules really aren't that complicated and even Little M (age 3) could play along with a little help.
We have played this game every week for family game night since we received it and the kids and I have played it at least two more times each week. The Hubs is the most picky gamer we have and he gave it two thumbs up (although he did complain that their wasn't much strategy, mostly luck of the draw). We sent the game with Ms. Q to the Grandparents' house when she was visiting them for the week. They loved it! All in all it has been a wonderful addition to game collection.
Pig Pile sells for $15.95 and can be ordered through the R&R Games website HERE.
R&R Games is offering TOS Crew readers a discount on any purchase from their website now through the end of 2011, use coupon code CREW20 and receive a 20% off your purchase.
To see what other TOS Crew members thought about this game and other R&R Games, you can visit the Crew Blog
TOS Crew: R&R Reviews
.

Disclosure: As a member of the 2011-2012 The Old Schoolhouse Magazine Homeschool Crew, I was provided this product for free in exchange for my review. No other compensation was given and this review reflects my honest opinion.